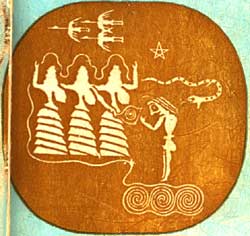 The Witch
She comes from the earth. In her hair grass and leaves have been tangled. Is it a blessing or nightmare? Her gown is white and silver. The moon glows bright and full. In its light we process through a thicket of black yew and birch and the birch bark catches the moonlight: it sparks.
I follow as she steps away. She slips between a copse of quince and willow. We have not spoken but she looks me through the blackened limbs, and onward.
If she speaks I will answer, but we move wordless on. Her face glows white under the moon and the branches spread thick before her.
Because she dies her body has been taken. I go with some men to find her. This takes a long time and one, a stranger, smiles knowingly. Touch her hand, he says, and the chill will sink to your core. Another in the moonlight turns, his coat patched and threadbare. The Witch has coiled up in your viscera, boy. She is a tired and cranky old man: just ignore her.
I wonder about these words, and how the dream translates them. The men are common woodsmen. They know all I know, but it's easier for them: they are not possessed by her spell. One man acts as though he were put out; another whistles as he cuts new lumber; still another plays with a lasso woven of feathers and hair. Someone says—or perhaps I imagine it: Leave The Witch in the ground.
We arrive in a field, our breath slow in the chill, and dig. I see her pale hand and the veins of her wrist grow with the roots of the birch.
In four seasons' time she has died and rebirthed. She compels devotion by charms: she leaves nothing untouched by her appetite. Once in a meadow we passed an evening. She spoke of the farthest reaches of space. The galaxy, she said, is shaped like a bowl with long, thorny vines. It twists along a horizon where darkness meets the light. Her secrets were powerful, sure. Do you see how your hand maps mine, she said. I spread my palm and she pressed it.
Once I paused with some men under ash. We leaned on branches prating about those many nights with The Witch. O how she charmed our bright feelings, tarring our hopes with black pitch.
Rowan, alder, willow, ash. White-thorn, oak, and holly. She was known as Gwydion, enchantress of an army.
Gétal! We stood in gooseberry and broom, bright moonlight on holly and heath. Gétal! An owl spread its wings in the coll; below it brooded The Witch. Gétal! She lit on it fast. Feathers and a sudden noise shook the dark; below her blood drops stained a fern. Gétal! She chewed the sinewy thing; gnawed its soot-colored bone to ash. Shadows increased with a fluttering movement. Gétal! A scuffle continued as branches and hair and the silver in her gown whirled in a frenzy of vines.
When the still husk of night returned I found her inertly strung. Her eyes were gouged, her neck scratched: she hung in scarecrow tatters. Somehow I took her off the tree. She's not herself, I said.
As we went toward her grave I talked about this and that. I said what if this time I do not come for you. And she paused to think. "What if," she wondered, and we walked. She said: "If you don't come back for me I will lay in the earth. And that will be okay."
I split the elder and in the fire it went. Some praise blackthorn, some white: the Ogham's ancient course in leaves sometimes is hard to straighten. The men are gone, the woodland empty. A better world awaits my axe: away I swagger wanly—and tread my boots on the muck and mud that keeps The Witch.